Good-bye Winter…So Long Snow. It's Time to watch the flowers grow.
Lots of fun things today:
For a quick way to get to what your wanting to do, click on the word below to take you to your interest – That is if you don't want to read the whole post – And don't forget… for some Witchy magic, read one of my books.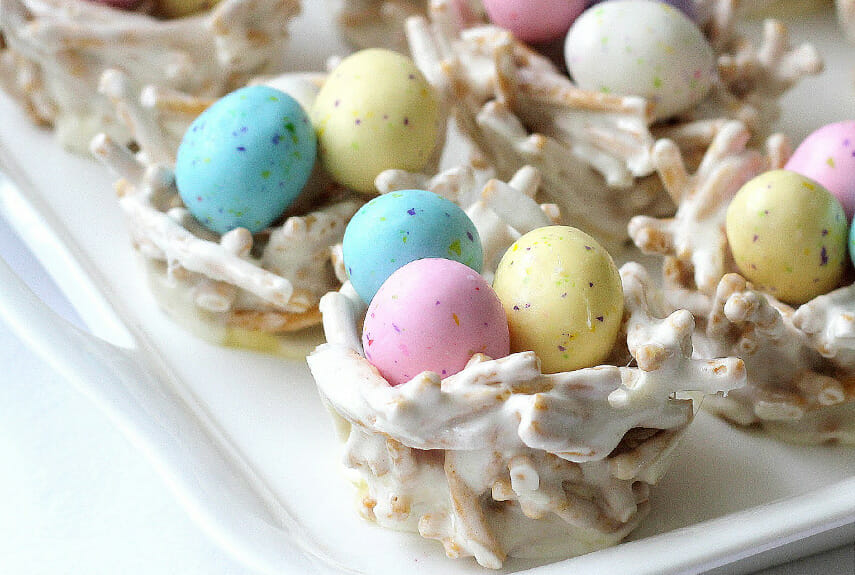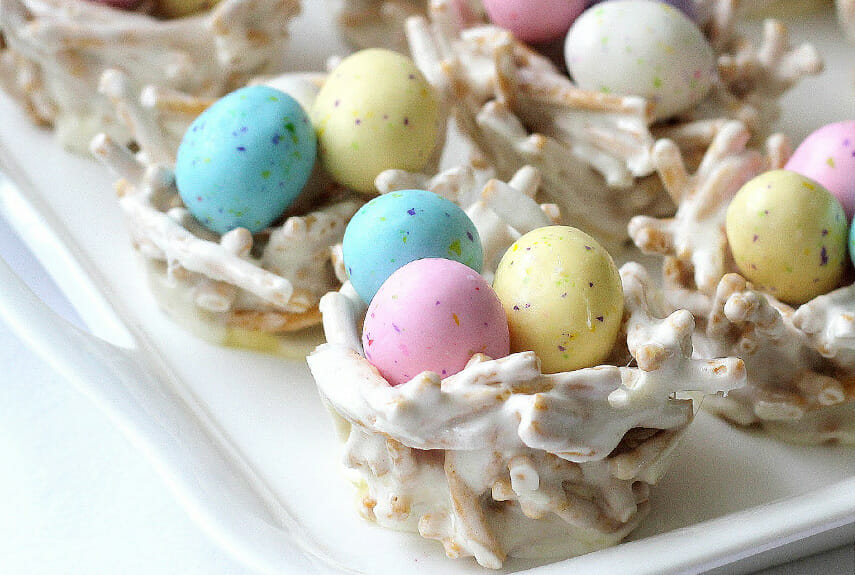 Easter Bird Nests
The cutest little, edible nests are adorable for Easter. Wouldn't they look sweet at each place setting around the dinner table. These nests are made using Chow Mein noodles giving the appearance of sticks and twigs gathered by the birds.
The nests can be made using broken pretzel sticks or even Rice Krispie cereal but I like the look of the Chow Mein noodles.
Here is my adapted recipe:
Recipe makes 12 nests.
2 cups Mini Marshmallows (I used 3/4 of a bag of large marshmallows)
1/4 cup Butter
4 cups of Chow Mein Noodles
Jelly Beans, M&M's or Robin's Eggs to fill
Instructions:
Spray muffin pan with PAM
In a large, microwave safe bowl, melt the butter. Add marshmallows, stir and microwave 45 seconds on full power. Stir; microwave an additional 45 seconds. Stir; add Chow Mein noodles. Stir until coated with marshmallow/butter mixture.
Spray a little PAM on your hands. Spoon the coated Chow Mein noodles in each cup, then use your hands to form it into little nests.
Put the pan in freezer for an hour or so.
Pop each nest out using a knife or fork.
Place on a lightly buttered serving plate or a plate lined with parchment paper or wax paper so nests won't stick.
Easter Bunny Left Right Game
Fun game to play with the kids and grandkids. Hand one person a prize and read the story. Every time the story says Left or Right, pass the prize that direction until the end of the story. The one who has the prize when the story is over wins. Download PDF Game by clicking here.
Egg Dying
Easter is upon us, and I always love to see the creative ideas that people have for decorating Easter eggs. This year, I've added my own egg craft to the mix: sparkly polka dotted Easter eggs.
It took a bit of experimenting (and some broken eggs) to get the look that I wanted, but the result is more than worth the relatively little effort that it takes to make these pretties. The microfine glitters can get a bit messy, but in my book this just adds to the fun! At the bottom of this tutorial, I also have a kid friendly version that uses decorative sugar.
What you'll need for the project:
eggs – I've used hard-boiled eggs, but if you would like to use the eggs in the future, you can also use eggs that have been blown out.
zots clear adhesive dots – These can be found in the scrapbooking aisle at most craft stores and come in a variety of types and sizes. I've used the small type that come in the purple box.
microfine glitters – Martha Stewart has a wonderful collection at Michael's. You can purchase a kit that has 25 or more shades for about $30. The glitters that I used are not from the Martha Stewart line, but you can also find them at Michael's. They came in a sample pack with 16 shades. The package says '"Glitter Sample Pack" and costs about $4. It's perfect for a small project like this.
a pencil, pen, or marker
a small, soft bristled paintbrush
several sheets of paper
Using a pencil, pen, or marker, make small dots all over the egg in the pattern that you would like on the egg. These dots will act as guides when you apply the Zots.
Take the sheet of Zots and press them onto the eggs, one by one, using the pencil dots as guides. Note: Try not to set the egg Zot side down on any surface at this stage, as the Zot may stick to the surface, and part of the egg shell will break off when you attempt to lift the egg from the surface. Trust me on this one.
After you've finished applying the Zots to the egg, place a piece of paper on your work surface and start to apply the glitter to the egg, turning the egg in your hand as you work.
You may find that some of the adhesive dots haven't been covered in glitter. You can re-sprinkle glitter over these dots, or you can gently roll the egg in the glitter that's gathered on your paper to fully cover all of the Zots.
After all of the Zots are fully covered, take a small paintbrush and brush the excess glitter from the egg's surface. You won't be able to get every speck of excess glitter because your fingers will still have some glitter on them, but you can do a pretty good job the first time around and do a second brushing after you're finished with all of the eggs. When you've finishing brushing, set the egg in an empty egg carton or a bowl so it won't roll away!
After you're finished with a shade of glitter, set aside the now glitter covered piece of paper and wash your hands to clean off the glitter.
Repeat this process for every shade of glitter that you'd like to use and, after you've finished, take the individual pieces of paper, fold them in half until you've formed a sort of funnel, and pour the excess glitter back into its container.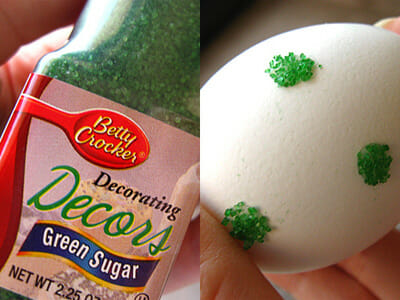 Kid friendly version: Art glitter can be a bit messy, so if you'd like to make this craft more kid friendly, you can use decorative colored sugars (regular table sugar would work, too) that can be found in the baking aisle. Instead of pouring the sugar over the egg, as you did with the glitter, shake a small pile onto a piece of paper and gently press the Zots covered eggs into the sugar. The effect won't be quite the same because the sugar crystals are larger than the art glitter, but it's still pretty cute and very kid friendly. Dyed eggs with plain table sugar dots would be very nice, too.
Have a Happy Easter, everyone!