Frogs croak, rain soak. Chicks peep, crickets leap. Bees hum, robins come. Birds sing, It's spring!
Lots of fun things today:
For a quick way to get to what your wanting to do, click on the word below to take you to your interest – That is if you don't want to read the whole post – And don't forget… for some Witchy magic, read one of my books.

Chocolate Chip Easter Baskets
Prep Time: 45 Minutes
Cooking Time: 14 Minutes
Recipe makes 24 nests.
Instructions:
PREHEAT oven to 350 F. Grease and flour 24 mini-muffin cups. Place one square of cookie dough into each cup.
BAKE for 14 to 17 minutes or until golden brown. Remove pans to wire rack. If licorice handles are to be added, with tip of wooden pick, make two holes opposite each other on top edge of cup. Make sure holes are the same size as the width of the licorice. This is best done when cups are very warm. Cool cups completely in pans on wire rack. With tip of butter knife, remove cookie cups from muffin pans. Arrange on serving platter.
COMBINE frosting and a few drops of food coloring in small bowl, adding additional food coloring until desired shade is reached.
DISSOLVE a few drops of food coloring in 1/4 teaspoon water in small, resealable food storage plastic bag. Add coconut. Seal bag and shake to evenly coat coconut.
SPOON a small amount of frosting onto the top of each cup. Add a pinch of tinted coconut. Top grass with SweeTarts Jelly Beans. Insert ends of licorice into small holes in cups for handles.
Nutrition
SERVING SIZEÂ 
1 Â 
CALORIES PER SERVINGÂ 
110
CALORIES FROM FATÂ 
45
Bunny Boggle
How many words can you make from the grid. Play this fun paper version of the popular Boggle game. Download PDF Game by clicking here.
Egg Dying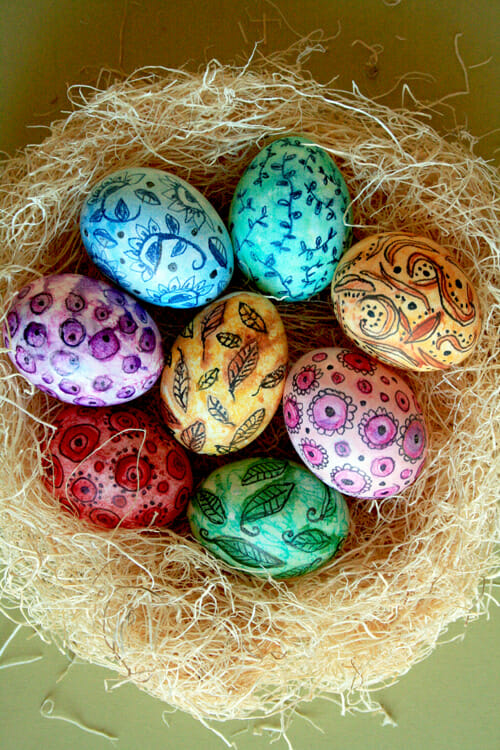 An easy way to create unique and colorful Easter eggs is using watercolors. Keep in mind this is not a permanent color option like dye but it is clean, fun and you can achieve all kinds really cools effects.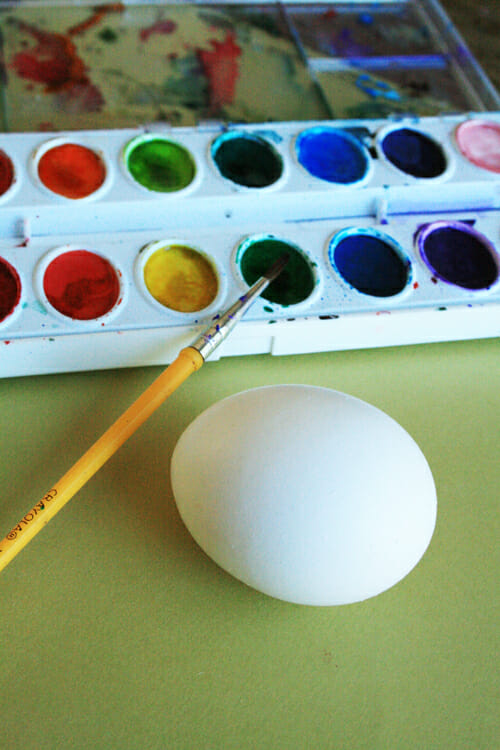 I started with eggs that had been hard boiled and a set of Crayola watercolors.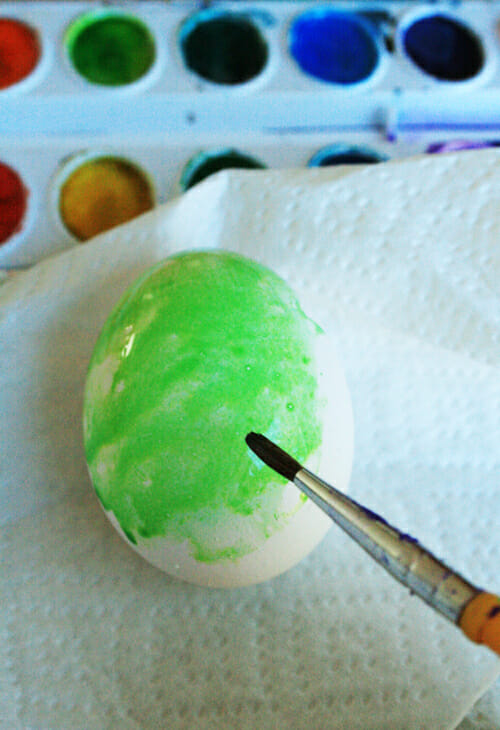 I painted a wash of color all over the surface of the egg
and while the paint was still wet I added shapes (leaves) and let the color drip a little.
I pulled out my watercolor pencils. If you haven't used watercolor pencils (or water soluble pencils)- they are pretty darn cool. They are like a colored pencil but after you draw on the surface, you can run a wet paint brush over them the color is dispersed and it turns into more of a watercolor wash. I also like drawing with them on a surface that is wet. 
I used my watercolor pencils to draw on the wet surface. When you draw on a wet surface it almost feels like the pencil is melting. The result is a rich and soft line that is great for details.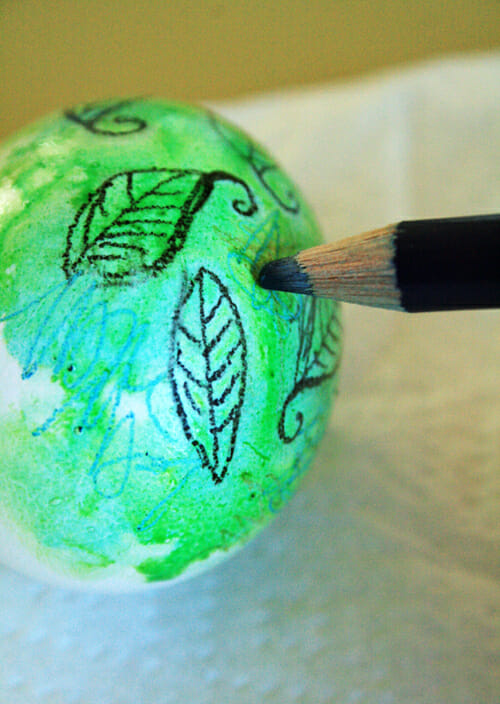 I added some scribbles and messy writing throughout the surface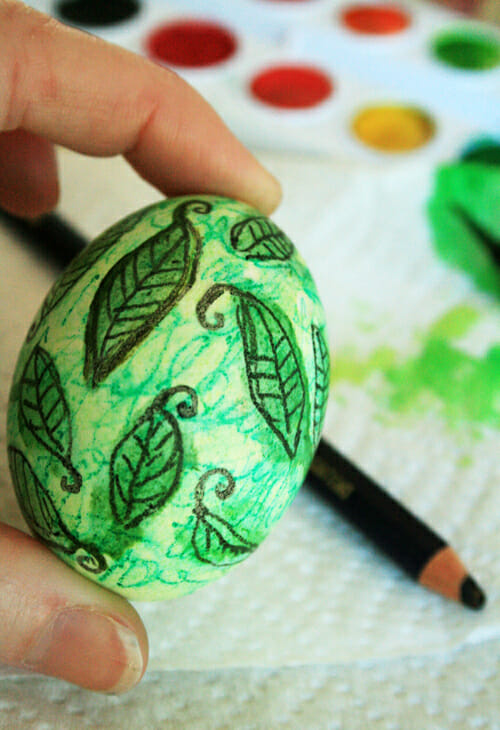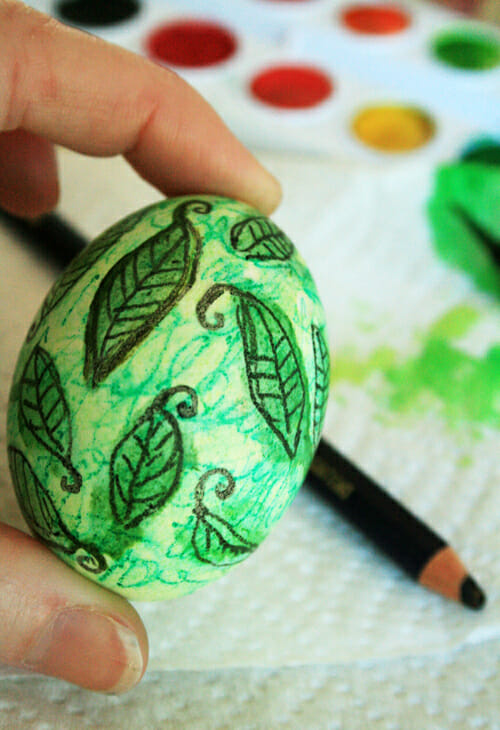 and let dry.