Goodbye Mr. Frost, Welcome lady Spring. Children around dance and sing. Welcoming the season of love and cheer. All around the skies are clear.
April Showers come and go, Sweet scented lilies and primrose grow. Songs of birds, larks on their wings. Humming bees whispering. 
"Happiness to all, enjoying the spring!"
Lots of fun things today:
For a quick way to get to what your wanting to do, click on the word below to take you to your interest – That is if you don't want to read the whole post – And don't forget… for some Witchy magic, read one of my books.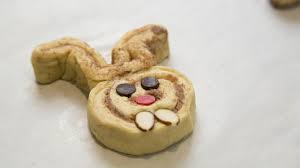 Cinnabunnies
1 can (13 oz) Pillsbury refrigerated flaky cinnamon rolls with icing
8 semisweet chocolate chips
4 red baking chips or candy-coated chocolate candies
8 almond slices
Instructions:
Heat oven to 350 F. Spray cookie sheet with cooking spray.
Place 4 rolls on cookie sheet, about 3 inches apart. Unwind remaining 4 rolls in to long dough strips. For each bunny, place one dough strip, cut ends together, next to a whole roll. Press and firmy pinch cuts ends into top of whole roll. Shape strip into floppy bunny ears.
On each bunny, place two chocolate chips for eyes, 1 red baking chip for nose and 2 almond slices for teeth; press firmly into dough.
Bake 12 to 15 minutes or until golden brown. Cool 5 minutes before removing to cooling rack. Spread frosting on warm rolls. Serve warm.
Easter A-Z
Needed:
Distribute pens and paper to all of your guests and have them write out every letter of the alphabet leaving a blank space next to the letter. Set a time limit of eight minutes for the players to come up with an Easter related word for each letter(only one answer per letter counts). So for the letter – a correct answer would be jellybean. Once the time has expired the person with the most Easter appropriate answers is the winner.
Egg Dying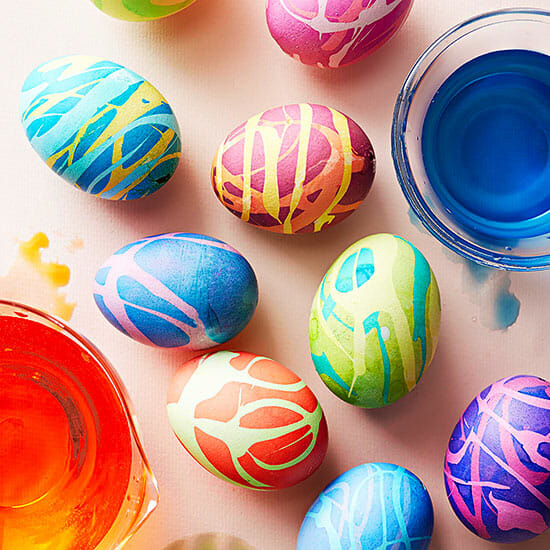 To make these swirled Easter eggs, simply pick a few complementary 
colors
 and get started! Drizzle an egg with rubber cement, let dry, then dip in dye. When dry, gently peel off the rubber cement. Repeat two (or even three!) times with additional colors.