So many flowers blooming
Petite little squirrels come out to play.
Really big bears awake from their slumber
Imaginative children enjoy a walk with their friends.
No tree is left standing with out any leaves. So
Go ahead jump for joy because spring is here.
Lots of fun things today:
For a quick way to get to what your wanting to do, click on the word below to take you to your interest – That is if you don't want to read the whole post – And don't forget… for some Witchy magic, read one of my books.
Egg Salad Crescent Rolls Carrots
1 tube Pillsbury Crescent Recipe Creations Crescent Seamless Dough Sheet*
1 egg (whisked with 1 teaspoon of water to make an egg wash)
1 1/2 cups of your favorite egg or ham salad
1 bunch of fresh dill or parsley
Special Equipment Needed:
pizza cutter or knife
6 metal cream horn molds
pastry brush
non-stick aluminum foil-lined baking sheet*If you can't find this product, you can use sheets of puff pastry, or use crescent rolls and pinch all the seams together.
Instructions:
Preheat oven to 400 degrees Fahrenheit.
Unroll the Pillsbury Crescent Recipe Creations Seamless Dough Sheet onto a cutting board. Â Use a pizza cutter or a knife to cut the dough lengthwise into 6 equal strips. Brush one strip with egg wash.
Roll the strip into a 17-18″ long log. I rolled the strip of dough up into a tube and pinched the seam shut. Then I rolled out the dough into a thinner, longer log by pushing and rolling  the log with both hands.
Repeat, brushing egg wash onto each dough strip before rolling each into logs.
Create 6 logs.
Wrap one dough log around each cream horn mold, trying to keep the seam side against the metal mold.
Repeat.
Be sure your dough does not hang over the open end of the cream horn mold, as it will make it difficult to remove once baked.
Bake for 6-8 minutes until golden brown. Â I suggest rotating the pan half way through the baking cycle for even browning.
Allow carrot crescents to cool for about 5 minutes.
Carefully remove the cream horn form by holding the carrot in one hand and using the other hand to twist the mold and gently pull it out.
Fill each Carrot Crescent with egg salad or ham salad. Â Press a few sprigs of dill or parsley into the egg salad for a decorative effect. Your carrots will keep in an airtight container for up to 2 days, but are best served the day they are baked.
Fill your carrots just before serving.
Easter Origami Fortune Teller
I'm sure we've all made these at some point in time (it used to be a sleepover favorite).
Materials:

square of paper – click here for instructions to make a rectangle of paper (typical 8.5×11 sheet) into a square.
Pen or pencil.
Egg Dying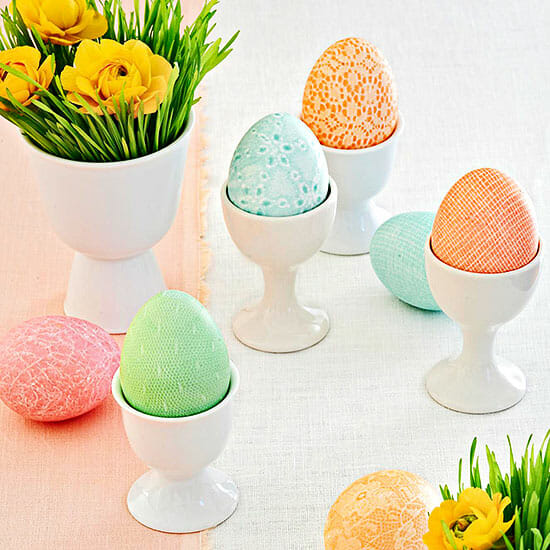 Wrapping an Easter egg in textured fabric before dyeing creates an intricate pattern that looks like hand-painting. To get the look, use fabrics such as lace, cheesecloth, or netting. Wrap a square of your chosen fabric tightly around the egg, twist to close, and secure with a rubber band. Dunk the egg in food-safe dye, using the fabric tail as a handle.Easter Egg Tip: For best results, use a new piece of cheesecloth for each egg. Other fabrics can be used multiple times.