Spring, spring is coming soon,
Grass is green, and flowers bloom.
Birds returning from the south,
bees are buzzing all about.
Leaves as budding everywhere,
spring, spring is finally here!
Lots of fun things today:
For a quick way to get to what your wanting to do, click on the word below to take you to your interest – That is if you don't want to read the whole post – And don't forget… for some Witchy magic, read one of my books.
Easter Bunny Tail Truffles
INGREDIENTS

1 8-ounce

package cream cheese, softened

4-5

cups powdered sugar

1

teaspoon almond extract (you can substitute this for coconut if you want a stronger coconut flavor)

2-3

cups sweetened coconut

INSTRUCTIONS

Be sure cream cheese is softened (can microwave for 10-15 seconds to help).
Use an electric mixer with paddle attachment to beat cream cheese until fluffy.
Add powdered sugar 1 cup at a time until mixture is a thick dough. If dough is able to hold shape in a 1-inch ball, then you're good to go! If it's too sticky, then add more powdered sugar.
Roll balls in coconut. If you have trouble with it sticking, just press it in a bit or use a little bit of corn syrup.
Enjoy!
The Wolf and the Eggs
One player is the wolf and the others are Easter eggs. Before the game begins, the eggs decide what color they are going to be. Usually, the older kids choose colors with longer names and leave the easier colors for the younger kids. The eggs then face the wolf, who begins to guess colors.
If the wolf guesses a player's color, that player must step forward one step, spell the color, and then run a predetermined route before running back to the other players, called the "basket." If the egg makes it back to the basket, he chooses a new color, and play continues. If the wolf tags the egg before he gets back to the basket, that player becomes the wolf. This variation on a traditional outdoor game can be played year-round, not just at Easter.
Egg Dying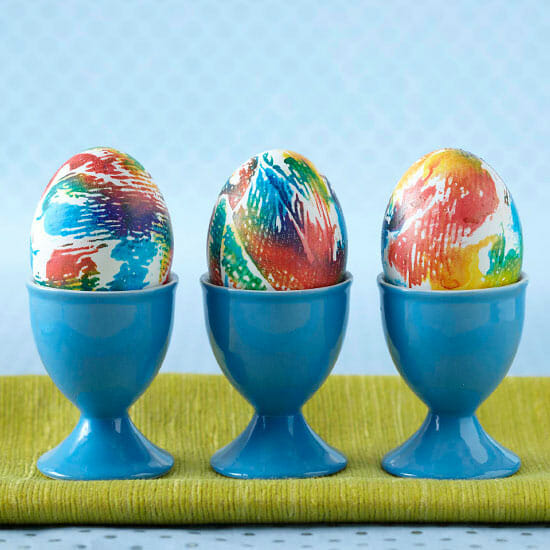 You'll never guess the secret ingredient in this easy egg-dyeing method…so we'll just tell you. It's food coloring! To give your eggs fun color and texture, moisten a paper towel slightly with vinegar, then wrap it around an egg, making sure the paper towel layers aren't too thick. Gently press the tips of food-coloring tubes onto the paper towel, using no more than three colors at a time. Let the covered egg sit for a few minutes, then remove the paper towel to reveal your groovy creation.