Spring appears in whispers and hushed tones,
as the bellowing winter bows away.
Drowsy flowers come to attention waking from their sleep – yawning;
with heads turned upward towards the Maestro called the Sun –
I watch with anticipation as the concert begins.
Lots of fun things today:
For a quick way to get to what your wanting to do, click on the word below to take you to your interest – That is if you don't want to read the whole post – And don't forget… for some Witchy magic, read one of my books.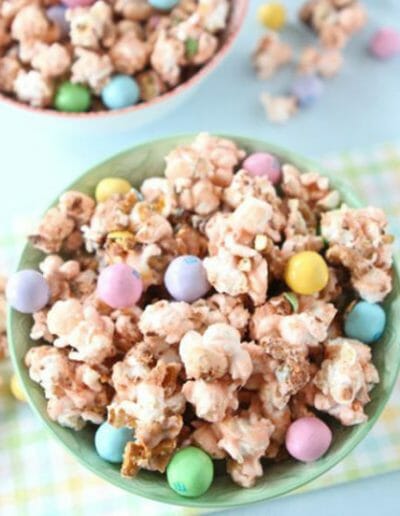 Salted Caramel Easter Popcorn

yield: ABOUT 8 CUPS POPCORN

prep time: Â 10 MINUTES

cook time: Â 12 MINUTES

INGREDIENTS:

6 cups plain popped popcorn
2 cups coarsely chopped salted pretzels
1 cup granulated sugar
1/2 teaspoon sea salt, plus more for sprinkling
1/4 cup water
1/3 cup heavy cream
1/2 teaspoon vanilla extract
1 cup miniature marshmallows
Drop of red food coloring-if you want to make the popcorn pink for Easter
1 1/2 cups Easter Pretzel M&M's

DIRECTIONS:

In a large bowl, combine popcorn and pretzels. Set aside. In a medium saucepan, bring sugar, 1/2 teaspoon salt, and water to a boil over medium high heat. Boil, undisturbed, until mixture is amber in color, for about 8-12 minutes. Remove pan from heat and slowly pour in the heavy cream. Be careful because the mixture will bubble up. Stir until smooth and add vanilla extract, marshmallows, and drop of red food coloring-if using. Stir until marshmallows are melted and mixture is smooth.
Pour caramel mixture over popcorn and pretzels and gently stir with a rubber spatula until popcorn is well coated. Stir in the pretzel M&M's. Transfer mixture to a large baking sheet and sprinkle with sea salt. Let cool completely.

Note-I used air popped popcorn, but stove or microwave popcorn will work as well. I used red food coloring to make the popcorn pink for Easter. I also used Easter Pretzel M&M's. You can always change up the color or leave the popcorn plain. And feel free to stir in your favorite M&M's or other Easter candy. Robin Eggs or Mini Cadbury Eggs would be good too!
This game is played similarly to bocce or lawn bowling. It can be played indoors or out. Each player uses a colored boiled egg. A plain white boiled egg is used as the target. Players compete to see who can roll their egg closest to the white egg without touching it. The first person to win a certain number of rounds–usually five or ten–wins the game.
Alternately, use a chocolate Easter bunny as the target. The winner of the game gets the chocolate bunny.
Egg Dying
Marbled Eggs

1. Choose the number of eggs you want to decorate and hard boil. If you don't know how to hard boil your eggs, you can use our easy step-by-step guide here.

2. Next, you want to put cracks in each of the eggs. To do this, gently but firmly roll the egg on a hard surface until the surface begins to crack. If you aren't getting the results you want by rolling them, take a spoon and lightly tap the outer shell until you have the cracks where you want them.

3. Place the eggs in the food coloring of your choice and let them sit for 10 minutes (leave in a little longer if you want a really vibrant color).

4. Peel the eggs, and you should see a glossy, marble look on your eggs.

These eggs are perfect for entertaining and will definitely be a conversation piece at Easter dinner this year.